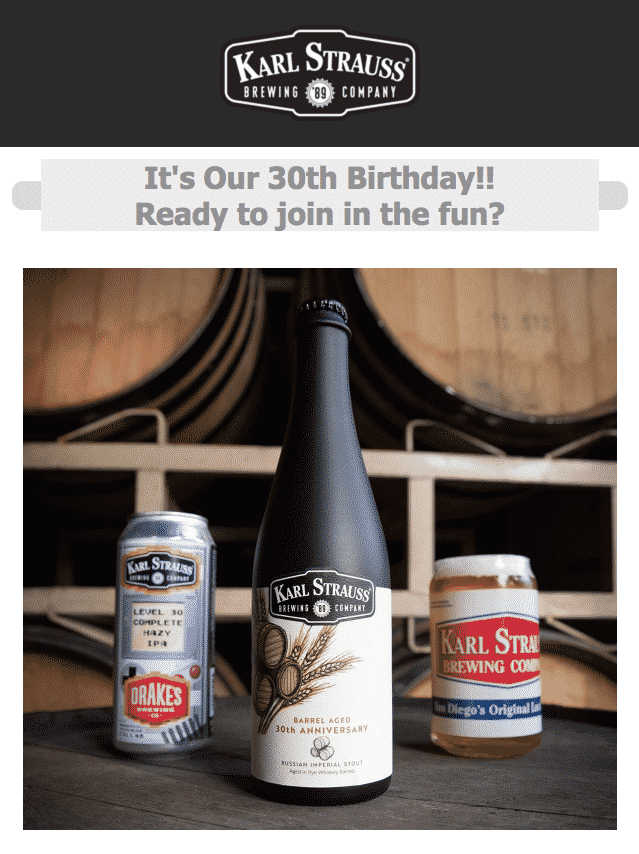 If you're the type of person who celebrates your birthday all month long, my-oh-my, are we the brewery for you. But even if you'd rather not acknowledge your own birthday, we think you'll like what we have in store for ours! Karl Strauss Brewing Company is turning THIRTY, and we have a month of anniversary fun in store:
Beginning on Friday, February 1st, be sure to get your hands on our 30th Anniversary Barrel-Aged Russian Imperial Stout, aged in rye whiskey barrels for twelve months. Rich aromas and flavors of chocolate, toffee, and espresso are backed by a warming, lingering finish. Thirty years in the biz calls for a really (really) big beer to celebrate, and it will be available on draft and 500mL bottles across California!
---
---
---
Oh, you thought we were done? Not even close. We were feeling a little nostalgic and took a peek through Karl Strauss' original recipe book from 1989. There are some tasty brews in there, so why not share these "throwback beers" with you? Every Thursday throughout the month of February, stop into Karl Strauss for a #TBT Beer Release. Mark those calendars:
First National Bock: Tapping on Thursday 2/7
German-style lager with rich caramel and toasted malt flavors, underscored by a plum-like fruit character and a warming finish.
Downtown After Dark: Tapping on Thursday 2/14
American Brown Ale brewed with caramel malts and roasted barley for flavors of chocolate, sweet toasted malt, and a clean finish.
Ed's Hoppy Birthday: Tapping on Thursday 2/21
German-Style Pilsner brewed with traditional malts and German hops for subtle toasted malt flavors and a dry, grassy finish.
Strauss Stout: Tapping on Thursday 2/28
English Stout brewed with darkly kilned malts and roasted barley. It boasts rich layers of toffee and a mild, espresso-like flavor.